Christie's Basket Express offers an array of Napa Valley Corporate gifts with customized gift selections to accommodate your desired Corporate budget. Whether you require 25 customized gifts for a Corporate meeting or 2500 for a large Corporate event, our 23 years in the Napa Valley gift industry insures your complete satisfaction will be guaranteed.

We can create the perfect welcome Gift Bag for your Corporate event by including your choice of specialty food & wine products and Napa Valley Guide Book. If you require custom Gift Bags, Gift Baskets, Gift Boxes or Amenities placed in their hotel rooms before your Corporate guests arrive in Napa Valley or delivered to your banquet or meeting, we work with you to create the ideal gifts of your choice which is within your budget while handling all of the details as to your instructions. (no delivery charge in Napa)

For your corporate gift giving presentation, we can provide etched wine bottles and wine glasses, branded cutting boards, personalized wine totes, ribbon and numerous other gift ideas with your company name or logo embossed, silk screened or imprinted. Our customized labels are perfect to commemorate special corporate events, thank you, birthdays, holidays or any special occasion, and are great for wine bottles, bottles of nuts or candy, favor bags, and many other uses.

Since we started offering our 2 & 3 bottle canvas wine totes, they have become a popular corporate gift. We can also embroider, silk screen, or hot stamp your company name, logo or your event on these canvas wine totes. They can then be given filled with your choice of wine & goodies, plus the recipient will have a great wine tote to use and enjoy over the years.

Shown here is another corporate customer's choice of products, and the finished assembly of their wine & cheese die-cut box choice. We work with our corporate clients to choose just the right combination of products, including special gifts, that are presented specifically for their corporate meeting, banquet or party theme.

At Christie's Basket Express, we can create a custom corporate event gift giving presentation for your specific needs, which can include showcasing your selected company items in a wide array of gift baskets, gift boxes and gift bags.
Our large inventory of different style baskets and gourmet products allows us to offer our corporate clients many options for each of their chosen event themes and presentations.

When your corporate gift giving budget is more limited, we can provide our chocolate grape cluster favors with personalized imprinted ribbon or suggest an array of amenities tailored to your exact needs and to fit within that limited budget.

If you are having your Corporate event away from the Napa Valley, there are specialized delivery services available to handle any size event Gift Basket and Gift Box deliveries throughout the greater San Francisco bay area.
For your Corporate events which require Gift Baskets or Gift Boxes to be shipped throughout the United States, we use a 7-step packaging process that guarantees your chosen gift will arrive at your desired destination by special carrier, UPS, or Federal Express in the same condition as when they were assembled:

We start by firmly securing all the products placed in the Gift Basket or Gift Box, next we shrink-wrap it, tie the bow & gift card on and then enclose the Gift Basket or Gift Box with bubble wrap. We also add a double cardboard cover to further protect the bow & gift card during shipping.
After being placed in a shipping box, we then press flo-pak cushioning material around and over the protected Gift Basket or Gift Box to secure it in place. The packed shipping box is then marked "this side up" and sealed with 3M shipping tape marked "fragile".
With this extra care Christie's Basket Express takes in packing your chosen Corporate Gift basket or Gift box, you can be assured it will be safely shipped anywhere you desire and confident it will be received just as you ordered it.


To learn more about how easily we can help with your gift plans for future Corporate events held here in the Napa Valley and elsewhere, including a free detailed price estimate, please contact our courteous staff for more information: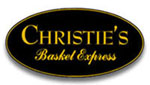 Phone: (707) 224-3444
Fax: (707) 254-9223

Monday - Saturday
10:00 AM - 6:00 PM (PST)

E-mail:
service@NapaValleyGiftBaskets.com
Mail:
Christie's Basket Express
1370 Trancas Street #374
Napa, California 94558
For fantastic information concerning visiting, dining,
and shopping in Napa Valley contact:
http://www.visitnapavalley.com/

Home ׀׀ Napa Valley Products ׀׀ Favors ׀׀ Personalized Ribbon ׀׀
Customer Service ׀׀ Wine Selection ׀׀ Contact
Copyright © 1999 - 2013 Christie's Basket Express